Twitter is a very idiosyncratic medium. First of all, it is ultimately composed of a minority of  "original" tweets, the majority of tweets comprising the recycling of articles or content seen elsewhere.
Then it's a hyperactive medium in terms of volume, as well as in terms of speed. Content is redistributed very quickly, often more quickly than in the traditional media.
Twitter is also a social medium that's being based on the interactions between tweeps (Twitter users): content is successively posted, read, redistributed and reworked. Each tweep is therefore an influencer, an intermediary with influence or a reader – a potential person of influence.
Actulligence Consulting has developed tools enabling tweets to be collected optimally and processing them to make them easier to read and interpret, to represent their hashtags, their authors and their interactions.

How do we do this?

We define and approve together with you the key words that are going to enable us to collect the content matching the analysis you wish to carry out.
We configure our collection tools for the agreed period (between one week and a maximum of one month).
We store and process the collected tweets to extract their authors, the relationships between the authors and the hashtags.
We produce various map views.
We analyse your ecosystem.
What do we deliver to you?

High definition and zoomable map views produced in PDF format of the analysis that was carried out.
A Powerpoint analysing your Twitter ecosystem.
Online access for a period of one month to the collected and analysed data via a dynamic map navigation solution.

Our fee:
For this service, a flat rate fee of €4,000 excluding VAT.
What's more, we can offer you options such as:
face to face handover of the research results,
collection for a period longer than 1 month,
regular updating of collected data files,
availability of an online map navigation interface for a period of your choice.

Look at our Business Cases:
eRepDay, the event devoted to online reputation was held in Mulhouse on 15 June. A trending topic for France on Twitter on the day of the event, Actulligence was able to analyse the coverage posted on Twitter in under 24 hours.
Orange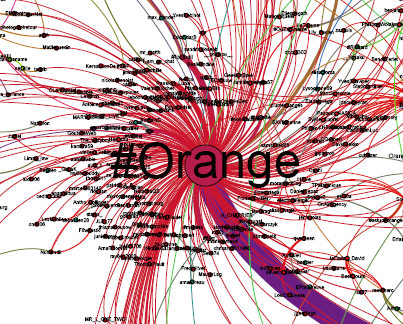 On 6 July 2012, the Orange France mobile telephony network suffered an unprecedented breakdown preventing any voice, internet and SMS use for several hours. How did Twitter react?
Check our articles about mapping (french) :