[twocol_one]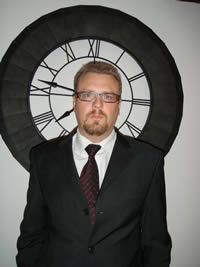 [/twocol_one]
[twocol_one_last]
Actulligence Consulting
39 Avenue Frédéric Mistral
34320 FONTES
FRANCE
[box type="info"]Tel : +33 (0) 4 67 24 19 74
Mob : +33 (0) 6 19 05 41 37
Email : frederic.martinet [AT] actulligence.com[/box]




[/twocol_one_last]
Profile
Specialist in Internet monitoring and information search tools
Online reputation management: monitor, evaluate and manage your reputation
Training documentation and monitoring teams in monitoring and information search methods and tools
Project management, advice and support for the implementation and organisation of monitoring processes
Professional Experience
Entrepreneur – Actulligence Consulting
Since September 2009
Support and advice on the implementation of strategic monitoring, competition monitoring and image / online reputation processes and units.
Training in the methodologies, techniques and information search and Internet monitoring tools aimed at professionals.
Project management, service level indicators and project co-ordination for strategic monitoring and online reputation.
Market & Competitive Intelligence Manager – Spotter SA
March 2009 – September 2009
Support and advice for the implementation of monitoring measures and units for Spotter SA's clients. Development and management of the portfolio of customers seeking strategic monitoring and competition monitoring solutions. Training in monitoring and information search methods. Studies of and possible ideas for developing the software solutions proposed by Spotter SA in collaboration with the Executive Board and the R&D Department.
Competitive intelligence consultant, intelligence and strategic monitoring consultant – KB Crawl SAS
January 2008 – March 2009
Support and advice for the implementation of monitoring measures and units for the clients of KB Crawl SAS. Installation and integration of KB Crawl 3.1 monitoring software in information systems. Defining the scope of monitoring and identifying pertinent sources of information against the stated and defined need, software configuration and training in the tool. Monitoring and information search methods training. Writing the white paper on the implementation of a monitoring unit.
Projects led in the Bancassurance, Humanitarian, Transport, etc., sectors.
Monitoring projects consultant – Help Management
August 2007 – January 2008
Support and assistance to project managers for the implementation of monitoring processes and units within the agency's clients. Drafting of requirements, writing specifications, support during the deployment phase, configuration of tools and user training. Projects led in the transport, insurance (international background: Europe and Asia) and telephony sectors.
January 2006 – May 2007
Implementation of a monitoring and Selective Information Distribution system, Selection and follow-up of various monitoring services, Competition and customer monitoring, Intranet project manager, referencing project manager forwww.akerys.com and www.akerys-location.com
May 2004 – January 2006
Management of a 4 person monitoring department for some twenty clients
Implementation of new monitoring and economic intelligence services
April 2002 – April 2004
Implementation of the Toulouse Chamber of Commerce and Industry's Economic Intelligence awareness programme
Organisation (choice of programme and stakeholders, communication)
Workshop activities connected with information search
Education
From 1996 to 2001 – Université des Sciences Sociales in Toulouse
DESS (Specialised Higher Studies Diploma) in Competitive Intelligence
Degree / Masters in Economic Science – Industrial Economy and economy and business management